SELL YOUR COLLECTION WITH COMICPROLINE TODAY!
Welcome to our Pro-Line collection selling center! Here you can submit any part of your collection and get it sold on our site today! Everything you need to know about selling your collection is listed below:
Please note that the contact form to apply is at the very bottom of the page.
Everything You Need To Know
How do I sell my collection with ComicProLine?
It is very simple to have any part of your collection featured onto our website. All you have to do is submit your name, email and a detailed message about your item such as, the name of the item, how much you want to list it for, along with the condition of the collectible item. You can list more than just one product if you choose too. We would then review your application and let you know if it will be featured onto our site or not.
Why sell with ComicProLine?
The main reason as to why selling with us is such a great option is simply because of the sheer amount of people we have visiting our website. By submitting your collectible item to us you are getting a lot of exposure towards your item you are trying to sell. With other listing websites, it is easy for your listing to get lost in all the other listings and have yours not sell. With ComicProLine, if your collectible item doesn't sell, we will push to to the top so it gets even more exposure!
There are only a few simple rules/conditions that you must follow to sell your collection with us. Those rules are listed below:
Rules & Conditions
These are the simple rules you must follow to stay a continued partner of ComicProLine.
1. We get a cut of 10% of every sale made with us. If you want us to take care of the packaging and shipping to the buyer, the cut we take goes up to 20%.
2. If you have your collectible item listed onto another website, and it sells, you must let us know ASAP so we can take the listing down off of our website.
3. In the case of a scam, not only will you be permanently terminated from our website but we will give your personal information to the buyer in the scenario they want to take legal action against you.
4. You may not under any circumstances provide us misleading information about your listing ex. condition of the item.
5. If you are shipping the collectible item out yourself to the buyer, we at ComicProLine are not responsible to any damages that may occur during the delivery process of that item. We are only liable if you send your item to us and we send it out ourselves.
What Collector Items Are Eligible For Listing On the ComicProLine Website?
All the eligible categories are listed here:
-Comic Books
-Trading Cards
-Coins/Currencies
-Model Cars
We are open to other item suggestions.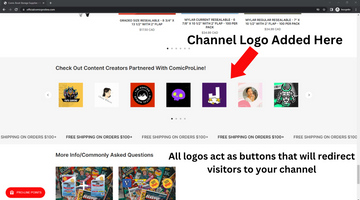 What Your Listing Will Look Like On Our Website:)
APPLY NOW
This is the form to list your product on the ComicProLine website.