Skip to product information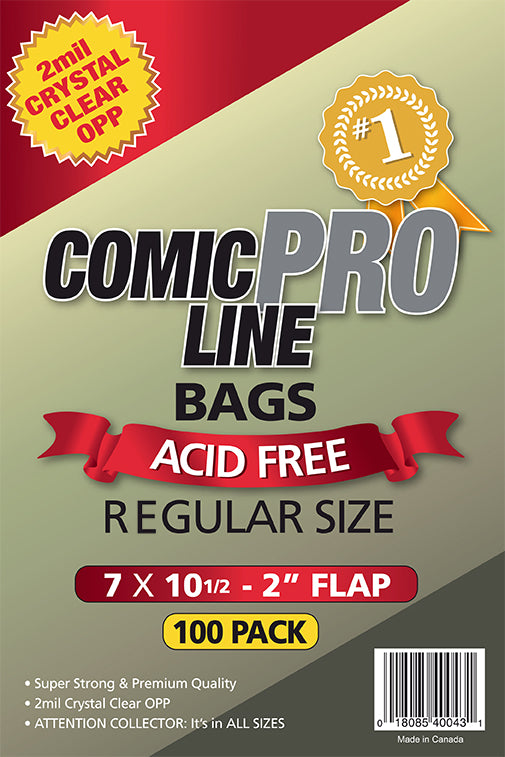 Regular Size - 7" x 10 1/2" with 2" flap
Sale price
$7.77 USD
Regular price
Regular Size - 7" x 10 1/2" with 2" flap Comic Bags
2mil Crystal Clear OPP. Super Strong & Premium Quality.
Introducing our Regular Size Bags – 7" x 10 1/2" with a 2" flap.
Exceptional Clarity: These bags are meticulously crafted to showcase your regular-size comics with breathtaking clarity. Every vibrant panel and cover art detail is brilliantly displayed, enhancing your comic collection's visual appeal.
Guardians of Protection: Designed for durability and strength, our Regular Size Bags offer robust safeguarding against wear, creases, and environmental factors. Trust these bags to preserve your regular-size comics' condition and value.
Tailored Fit: With dimensions of 7" x 10 1/2", these bags provide a snug, custom fit for your regular-size comics. Ensure your collection receives the utmost care and protection.
Effortless Handling: The 2" flap streamlines the process of inserting and retrieving your comics, making it convenient to organize and enjoy your collection without the risk of damage.
Elevate your comic storage experience with Regular Size Bags. Combining exceptional clarity with unwavering strength, these bags are the ideal choice for preserving and showcasing your regular-size comics. Display your collection proudly, knowing it's protected by the best in the industry.
MORE ABOUT OUR OPP BAGS
ComicProLine's OPP bags are the best plastic material available for permanent protection and storage with superior preservation characteristics. OPP Bags are 2-mil thick and made from crystal clear material.
Our OPP Bags are archival safe and recommended for long term storage. OPP bags do not breakdown, turn yellow, or off-gas like regular Polypropylene and Polyethylene comic bags.
Possesses the same characteristics as Mylar (a Polyester film), but at a fraction of the cost.  Like Mylar, CPL's OPP Bags are naturally resistant to chemicals, oils, grease, moisture, and ultra violet rays.
Sold in packages of 100.
MADE IN CANADA
Estimated delivery:

Oct 07 - Oct 11

Free shipping on all orders over $100
FREE SHIPPING ON ORDERS 100+
FREE SHIPPING ON ORDERS 100+
Become A PRO With ComicProLine!
Join a wonderful community of people who are going PRO every single day! With our quality and prices being the best in the industry, why not go PRO? Have a wonderful day!