Become A Creator For ComicProLine!
Welcome to our Pro-Line creative center! Here you can apply to become apart of our creator system! We offer exclusive discount codes, increase of channel exposure and more. Everything you need to know about this new feature is listed below:
Please note that the contact form to apply is at the very bottom of
the page.
Everything You Need To Know
What is a ComicProLine Creator Account?
A creator account is a system we have recently setup here at ComicProLine. It is a system
we have put together to attract content creators from all over the world to work with us. We will provide you with a personalized creator code that will give you $10 off you and your views orders! We also will be pushing the growth of your channel by featuring your channel on our front page with a direct link
to your content page. We look at this as a mutual benefit as not only will you be saving on top of our sales we provide every week but we really expect to see
each and every single one of the channels that apply for our creator account to see a boost in their over all view count. We advertise 24/7 and have thousands of people visiting our site every week and with your channel being on the front
page, we expect numerous website visitors to click onto your channel link and view the content on your page. Over all, you will be joining a wonderful community with people who all love the same hobby of comic collecting. There are only a few simple rules/regulations that you must follow to become partnered with us. Those rules are listed below:
Rules & Regulations
These are the simple rules you must follow to stay a continued partner of ComicProLine.
1. You must have at least one piece of content on your platform that displays ComicProLine products.
2. You must only be affiliated with ComicProLine. We do not
offer creator account perks and bonuses to creators partnered up with any competitor companies.
3. In any case of offensive or inappropriate content being
posted on your account, we will cut off our partner ship with you immediately.
4. You must provide the link to our website somewhere in the
description/caption of your ComicProLine related content.
What Social Media Platforms Are Eligible For Our Creator Account?
All the eligible platforms are listed here:
-Youtube
-Facebook
-Instagram
-Snapchat
-Reddit
-Pinterest
-Twitter
-TikTok
We are open to other platform suggestions. We want all our
creators to be able to post on the platform of their choosing. You can submit a request for a different platform when you submit your information via the
contact form at the bottom of this page.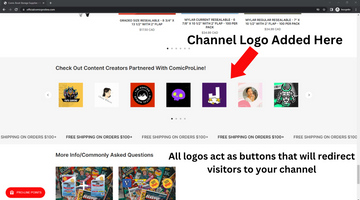 What Your Listing Will Look Like On Our Website
APPLY NOW
Apply For A Creator Account Today!