Skip to product information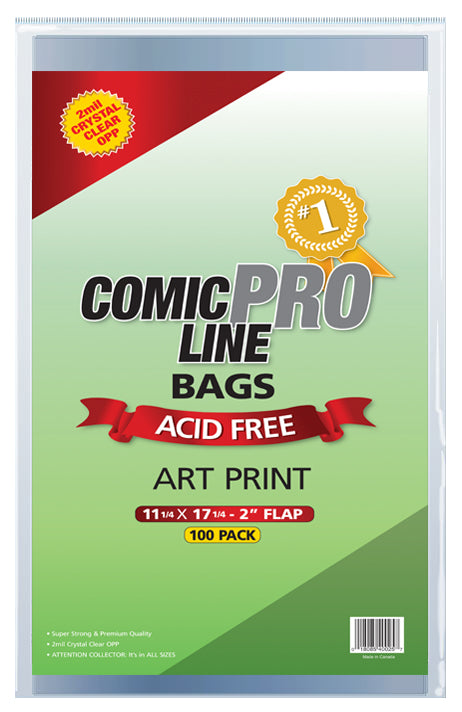 Art Print – 11 1/4″ x 17 1/4″ with 2″ flap
Sale price
$14.99 USD
Regular price
Art Print Bag – 11 1/4″ x 17 1/4″ with 2″ flap
2mil Crystal Clear OPP. Super Strong & Premium Quality.

Discover the ultimate protection and presentation for your prized art prints with our ComicProLine Art Print Bags – 11 1/4" x 17 1/4" with a 2" flap.
Unparalleled Clarity: These bags are engineered for crystal clarity. Your art prints will be showcased with breathtaking detail and precision. Whether it's a masterpiece or a cherished collectible, our bags ensure every nuance is on full display.
Uncompromising Strength: We understand the value you place on your art. That's why these bags are crafted from top-quality materials, providing robust protection against potential hazards. Say goodbye to worries about bends, creases, or moisture damage. These bags are designed to keep your art prints in flawless condition for years to come.
Size Matters: With dimensions of 11 1/4" x 17 1/4", these bags are generously sized to accommodate a variety of art print formats, allowing you to showcase your collection effortlessly.
User-Friendly: The 2" flap makes inserting and retrieving your art prints a breeze, ensuring that you can enjoy your collection without the hassle of handling delicate items.
Elevate the way you store and display your art prints with ComicProLine Art Print Bags. We've combined pristine clarity with unbeatable strength, offering you a solution that not only protects but also enhances the beauty of your art. Preserve your artistic treasures with confidence and style.
MORE ABOUT OUR OPP BAGS
ComicProLine's OPP bags are the best plastic material available for permanent protection and storage with superior preservation characteristics. OPP Bags are 2-mil thick and made from crystal clear material.
Our OPP Bags are archival safe and recommended for long term storage. OPP bags do not breakdown, turn yellow, or off-gas like regular Polypropylene and Polyethylene comic bags.
Possesses the same characteristics as Mylar (a Polyester film), but at a fraction of the cost.  Like Mylar, CPL's OPP Bags are naturally resistant to chemicals, oils, grease, moisture, and ultra violet rays.
Sold in packages of 100.
MADE IN CANADA
Estimated delivery:

Oct 07 - Oct 11

Free shipping on all orders over $100
FREE SHIPPING ON ORDERS 100+
FREE SHIPPING ON ORDERS 100+
Become A PRO With ComicProLine!
Join a wonderful community of people who are going PRO every single day! With our quality and prices being the best in the industry, why not go PRO? Have a wonderful day!